Regular price
$167.00 USD
Sale price
$34.00 USD
Unit price
per
Sale
Sold out
The +5000 LUTs for Affinity Photo is a powerful and comprehensive set of color grading presets that offers Affinity Photo users a wide range of creative options for enhancing and transforming their images. These LUTs are divided into 47 categories, making it easy to find the perfect look for any type of photo or project.
Whether you're a professional photographer or a hobbyist, these LUTs can help you achieve stunning and professional-looking results with just a few clicks. The wide variety of categories, including vintage, cinematic, black and white, and many more, ensures that you'll always find the perfect LUT for your specific needs.
One of the best things about these LUTs is that they come with lifetime updates, meaning that you'll always have access to the latest and greatest versions of the presets, without ever having to pay for an upgrade. This makes the +5000 LUTs for Affinity Photo an excellent investment that will continue to pay off for years to come.
Overall, if you're looking to take your Affinity Photo workflow to the next level, the +5000 LUTs for Affinity Photo is a must-have tool that will help you achieve amazing results quickly and easily.
View full details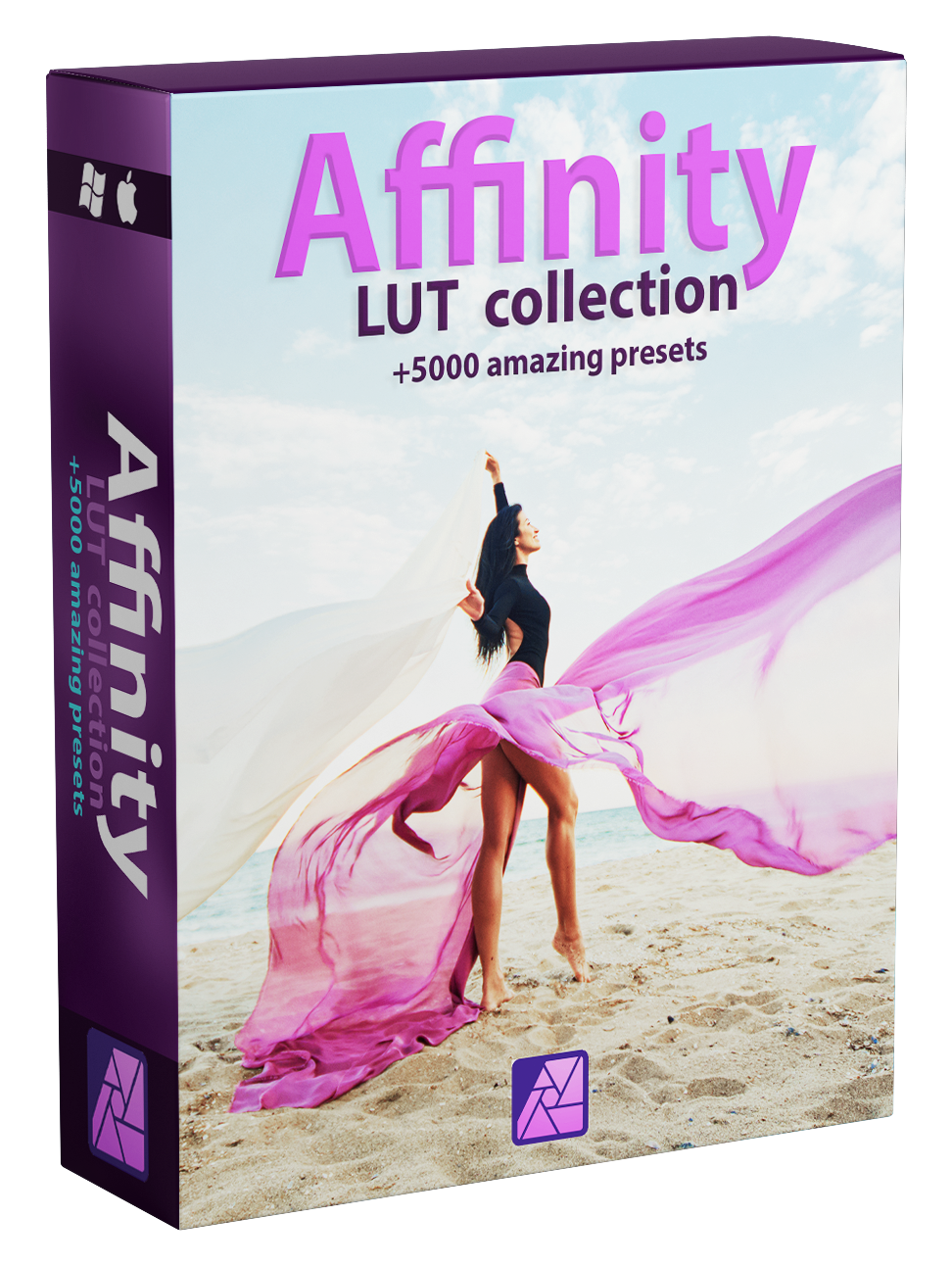 improve your photos, simple & fast.
List of collections
Beach - 50 Presets
Beauty - 71 presets
Black & White - 118 Presets
Cinematic - 205 Presets
City - 77 Presets
Color Correction - 109 Presets
Dark - 7 Presets
Dark Fantasy - 36 Presets
Drama - 116 Presets
Dreamy - 259 Presets
Epic - 157 Presets
Family - 98 Presets
Fantasy - 55 Presets
Fashion - 123 Presets
Film - 264 Presets
Food - 93 Presets
HDR - 76 Presets
Hollywood - 227 Presets
Warmth - 44 Presets
Wedding - 453 Presets
Winter - 30 Presets

Indoor - 97 Presets
Instagram - 197 Presets
Lanscape - 157 Presets
Lifestyle - 90 Presets
Love - 143 Presets
Matte - 130 Presets
Miami - 33 Presets
Moody - 149 Presets
Nature - 371 Presets
Nevada - 33 Presets
Outdoor - 37 Presets
Pastel - 118 Presets
Perfect - 50 Presets
Portrait - 184 Presets
Romantic - 87 Presets
Skintone - 15 Presets
Sports - 160 Presets
Summer -43 Presets
Urban - 120 Presets
Vibrant - 10 Presets
Vintage - 173 Presets
For Affinity photo

Digital Download

Windows Compatibile

Apple Compatibile